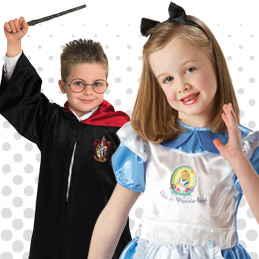 World Book Day Fancy Dress Costumes And Ideas
March 7th 2019 sees the annual appearance of World Book Day, designated by UNESCO as the first Thursday of every March to encourage reading and the exploration into the world of books for both children and adults. Over 100 countries participate in the book celebration that is now into its 17th year. As part of the educational push, schools are handed millions of tokens and vouchers to bring books to children at great value for money, sometimes even free, every year!
To take the celebration to the next level, fancy dress fast has got together some costume ideas and book-themed outfits to make it even easier for you and your children to participate in the fun of World Book Day. From classic school books like The Very Hungry Caterpillar, Where's Wally and Horrid Henry to more modern yet incredibly popular books like Harry Potter, The Hobbit and Dennis the Menace, you'll find all the officially licensed costumes for these right here. Add to that the popular themes of World War evacuees, Tudors, Victorians with Disney Princesses and old fairy tales like Red Riding Hood, Goldilocks and Miss Muffet and you have a huge proverbial library of choice.
Some of the most loved and time-tested children's authors aren't forgotten either, with officially licensed costumes for characters scribed by the likes of C.S. Lewis, Roald Dahl, A.A. Milne and Enid Blyton. There's also plenty of choice for teachers and grown-ups, with adults versions of all the popular themes mentioned above as well as some great fancy dress themes including; Willy Wonka, Oompa Loompas, Where's Wally, Voldemort, Gandalf and other great characters from J.K. Rowling and J.R.R. Tolkien's books. Keep checking back as the date approaches as we add to this section of the website.