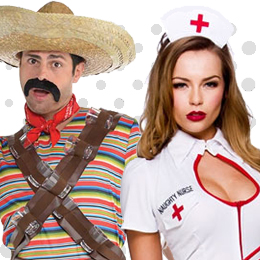 Adults Fancy Dress Costumes
Men might not tell you this but they love dressing up in a fancy dress outfit just as much as women and children (perhaps even a little more!), and we cater for that inner exhibitionist in almost all men! For one fancy dress idea you could look to release the comic-book geek in you? Or Halloween? Why not dress as one of your favourite DC/Marvel comic-book heroes like Batman, Superman or any of the Fantastic Four and Avengers?
Perhaps you prefer to be the villain? We have plenty of choices of outfit for possibly the most iconic villain of all time; Heath Ledgers 'Joker'. We cater for all shapes, sizes and budgets. From simple Cavemen outfits to fully licensed '300', 'Walking Dead' outfits, and popular themes like animals, gangsters, neon rave, pirates, and military. We have, literally, thousands of outfits to choose from.
We have thousands of ladies fancy dress costumes to choose from in all shapes, styles, sizes and prices. Be it from the roaring 20's flapper costumes and further back into history with the cave girls oufits. Fast forward again to the 'noughties', and fully licensed Lady Gaga costumes. Maybe you'd like some help with your dress ideas? How about a cheerleader or one of the cartoon heroes of days gone by? Our range of choice is extensive.
We clock up the air miles in this section too. From Acapulco to Arabia, London to Lapland and Bombay to Bavaria, our international fancy dress clothing section is home to many choices from all around the world.
We cover vintage clothing from Victorian costumes to the 1920's right through to the 1990's and have sexy female superhero outfits from most of your favourites from TV and film.
So whether you're looking for sexy costumes like a mediaeval maid, cowgirl, nurse or even a woman sailor, these oufits are all here in one fancy dress shop. Going on a hen night? Celebrating a birthday? Or are you just dressing up for fun? Our eccentric selection of adult clothing has plenty to offer!
Sorry there are no items in this category.