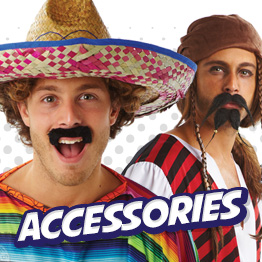 Fancy Dress Accessories, Toys and Extras
If you are looking for great fancy dress ideas, this is a great place to begin. A fancy costume can be elevated by the correct accessories, and here at 'Fancy Dress Fast', we stock plenty of accessories to take your costume to the next level. From funny joke teeth and fangs, jewellery and gifts and gadgets, we have all those little extras to boost your fancy dress ideas. You'll also discover our arsenal of toy weapons along with realistic prosthetics and make up. We stock hosiery and underwear needs, which is ideal for completing a burlesque fancy dress costume theme. Masks from TV and Film or just generic fancy dress masks and wigs are a speciality of ours. So, if you're looking for that finishing touch for your outfit, you'll find it here.
Sorry there are no items in this category.