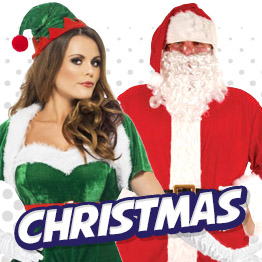 Christmas Fancy Dress Costumes and Santa Outfits for Men, Ladies, Boys and Girls
It is good to be a kid sometimes, and never better than at Christmas! Why not make your child's Christmas even more special with some of our fantastic outfits from fun outfits to dress your Children in? Costumes like fun little Santa and Santa's daughter costumes to the Adults Father Christmas outfits that make the children believe good old St. Nick has bundled down their chimney (which you probably don't have!)and ate all the mince pies!(which you probablyy don't like!
Maybe you prefer an Elf costume or perhaps you are dressing for the older kid in your life and giving them a sexy christmas gift? A nice sexy maid comes with breakfast just for you, or your partner is home in thier sexy outfit to clebrate that cold winter night? Whatever the occasion, we've got it covered!