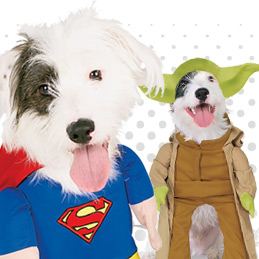 Pets Fancy Dress Costumes And Ideas
Men, ladies, boys and girls all love to dress up, but you mustn't leave your pet out! You can dress your pet up in style with many funny outfits here. Dress your dog up you must, as Jedi Master Yoda. We have outfits from Star Wars, Superman and Wonder Woman. So remember to dress up your pet, or risk being put in the doghouse!
Sorry there are no items in this category.